In this post:
Are you a newbie to the game of cricket and wondering how to get the most out of your new cricket bat? Perhaps you've purchased a junior cricket bat for your child and are wondering how to give it extra protection throughout its life span. If you want to know how to care for your cricket bat, look no further than 3D Sports for assistance, the UK's number one online cricket equipment retailer.
Our team of staff all have years of experience on the field and know the ins and outs of cricket. Always willing to help, they have helped put this article together on the basics you need to care for your cricket bat. If you have any more questions about caring for your cricket bat or our lineup of professional-grade Kookaburra cricket bats, reach out to us via our email address, or by ringing 0845 676 0099.
Understanding Your Kookaburra Cricket Bat
Every cricket bat you can find is made of natural willow, which is how they are so lightweight yet tough and shock-resistant. From our Kookaburra cricket bat size 6 and Kookaburra bat size 5 to our 2022 Kookaburra Ghost Pro Cricket Bat, natural willow is the key ingredient. However, as with all-natural materials, one should expect that the bat's condition will deteriorate naturally over time and usage.
In addition, no matter the brand or type of bat, it is almost an inevitability that cosmetic marks, dents and cracks to the edge and face of the bat will appear, as well as bruising of the natural fibre such as willow. Often, this occurs through normal usage for the sole reason that the cricket ball itself is a lot harder than the willow blade. There's no need to be alarmed if and likely when this happens, as these are simply superficial markings that will not affect the performance or durability of the bat whatsoever. Should you ever have any concerns you're welcome to contact us for advice.
Knocking In
All cricket bats have to be prepared before use, which demands eight hours of "knocking in" the bat with a mallet to properly ready the bat for the demands of cricket. Happily, all of 3D Sport's Kookaburra cricket bats are already pre-prepared using their Kookaburra Pre-Prepared (KPP) technology, so if you purchase from our store, you won't have to go through the entirety of this admittedly long and arduous process, reducing the requirement to 3-4 hours.
Cricket bats do undertake a very painful job, spending their entire life span being struck repeatedly by a fast-moving cricket ball. Not many would enjoy being hit in the face by a heavy ball day in, day out! With this morbid fact in mind, you may want to consider using either fibreglass tape on the bat's edges or perhaps an anti-scuff sheet with fibreglass type down both sides. Either method will help to protect all hittable areas of the cricket bat and increase its durability.
Knocking in should be undertaken in 30-minute sessions only, allowing 24 hours between sessions to allow the bat to decompress. This repeated striking of the face and edges will help prepare the bat for the beating it will take during its life, reducing the risk of damage but also helping it reach its peak performance level. As you go through these sessions, you should increase the level of force used, to the point where the last hour may only be possible in 15-minute sessions. When knocking in the edges, it's important to note you do not need to touch the side of the edges, it's the front corner of the edges that need to be struck with a mallet which will cause them to round slightly. It is also important to note you should NOT touch the splice with a mallet, this is the V-shaped section where the handle fits and should be visible with most cricket bats.
Following knocking in, the bat will then need to be 'played in' in the nets, against throw downs with old, softballs. This should be done for a further 2 hours in 30-minute sessions. If you notice the bat has deep seam marks on the face 24 hours after use, return to the knocking in stage for a further 30 minutes with high force.
After completing the throw downs stage, you can go to the final stage of preparation which is used in the nets against a live bowler. It is important to try and avoid bowlers who are using brand new, or very hard, cheap cricket balls as these can cause immediate damage to your cricket bat. Try only to face players using old, soft cricket balls and also try not to play shots against 'yorkers' if you can help it!
Oiling Your Cricket Bat
Your natural willow cricket bat must be treated using specialist cricket bat oil, as this will help maintain moisture levels and thus reduce the chances of your bat splitting or cracking.
With care, apply a small amount of bat oil on every part of the cricket bat except the splice, which are the triangular pieces that connect the handle to the main body, as well as any stickers or logos on the bat. Allow to dry afterwards, and after 24 hours, remove any oil that has not yet been absorbed. Then, using very fine sandpaper, sand the face of the bat lightly and reapply another light coat of oil to the face only. Repeat this process at least three times a season, and you'll be able to withstand a great deal more on the field.
Only a tiny amount of oil is required. If you were to cover the mouth of the bottle with a rag and upturn the bottle, the very small amount that has gone onto the rag should be enough to cover the entire face, edges and willow on the back of the bat not covered with stickers. You should apply one coat of oil when you purchase the bat, and a second at the end of the cricket season. Following this, one coat a season is sufficient. Always read the bottle for instructions on how much oil to put on a bat at any one time, as using too much oil is just as damaging as having no oil at all and can cause the willow to rot. If you are choosing to fit any kind of tape or anti-scuff sheet, this should be done before you oil the bat as any oil will prevent the sheet or tape from sticking.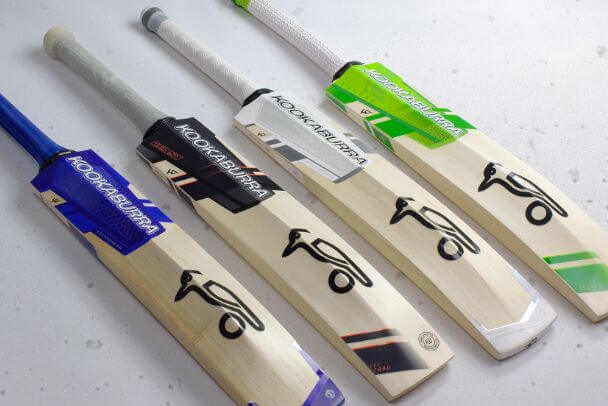 Browse our Range of Kookaburra Cricket Bats
Storing Your Cricket Bat
Storing the cricket bat is important, as this is where it will likely spend most of its time. Always store in a cool, dry place and never near any hot such as a radiator, boiler, window or fireplace. This will cause the wood to dry out and make it more vulnerable to damage. Instead, somewhere such as a shed or garage where a small amount of moisture can be absorbed from the atmosphere is ideal.
Finally, be sure to use a bat cover or in your cricket bat rather than bare, as this will preserve it longer and avoid any cosmetic marks from appearing. Our range of Kookaburra cricket bags do just the trick, and can safely and securely hold all the other equipment you need for your cricket game.